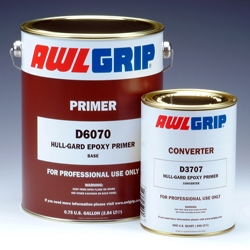 AWLGRIP HULL-GARD EPOXY PRIMER
Fast recoatability - can be recoated as soon as the solvents evaporate, even at low temperatures. Offers excellent corrosion protection.
| | | | | |
| --- | --- | --- | --- | --- |
| Part No | Description | Unit | Price | Quantity |
Description
AwlGrip Hull-Gard D6070 is a two-part epoxy primer ideal for priming surfaces above and below the waterline, and should be used as the base-coat when overcoating with Awlstar Anti-fouling bottom paint. It has outstanding resistance to salt and fresh water and offers excellent corrosion protection. Hull-Gard Epoxy Primer has superb adhesion and water barrier properties to properly prepared fiberglass, steel, aluminum and wood.
This primer promotes strong adhesion for Awlstar Antifouling paint, which is critical in achieving multi-season protection. Hull Gard Epoxy Primer also acts as a great adhesion promoter for Awlfair LW fairing compound.
Hull-Gard Epoxy Primer is a 2-part epoxy which requires Hull-Gard Epoxy Converter. Mix in a 3:1 ratio of 3 parts epoxy to 1 part converter.
3/4 gallons of primer requires 1 quart of converter.
Download MSDS
Download MSDS File