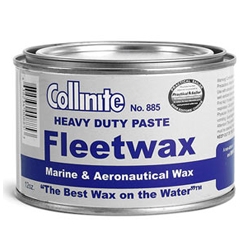 COLLINITE PASTE FLEETWAX
For Marine & Aeronautical Finishes. Developed especially to seal and shield against acid rain, sun, salt spray, bugs and other environmental acids. Easily applied and non-abrasive, wax will prevent finish deterioration and the adhesion of foreign elements.
| | | | | |
| --- | --- | --- | --- | --- |
| Part No | Description | Unit | Price | Quantity |
Description
No. 885
Fleetwax Paste
Last Step Paste Wax
Combines high luster shine with Collinite's longest-lasting marine weather protection.
Repeat award-winner in independent tests*
Collinite's highest degree of marine wax durability
Provides high gloss shine and toughest barrier against the elements

For the detailer in search of less frequent wax applications, the No. 885 provides the ultimate in Collinite staying power. Provides a shine that's unmistakably carnauba with durability that rivals even that of leading sealants. Long-lasting protection guards against UV, salt spray, marine growth, stains etc. High luster finish reduces drag by increasing surface sleekness; saving on fuel costs and helping achieve higher speeds on sailboats. Handcrafted and poured in the USA. *Editor's Choice
Practical Sailor
July 2009, Top Paste Wax
Powerboat Reports
October 2004, Top Perfromer
Powerboat Reports
1994.
Download MSDS
Download MSDS File