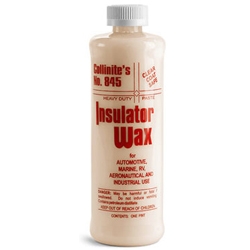 COLLINITE LIQUID INSULATOR WAX
It\'s primary use is on the finishes of automobiles, trucks, buses and airplanes where durability, high gloss and lasting protection are paramount.
| | | | | |
| --- | --- | --- | --- | --- |
| Part No | Description | Unit | Price | Quantity |
Description
No. 845
Insulator Liquid/Gel Wax Protector
Last step protective wax combines ease-of-use with outstanding durability.
Protective wax product to have for fleet applications
No hard rubbing or buffing required
Helps prevent dangerous and costly flashovers
An easier-to-use version of the S-238, this heavy-duty pure gel wax is ideal for new and old insulators and bushings, both large and small jobs alike. An excellent choice for fleet maintenance where both lasting protection and timely job completion are paramount. Produces a high gloss finish, increases dielectric strength and performance, repels harmful pollutants and safeguards against flashovers and malfunction. Contains no abrasives or cleaners. Handcrafted and hand-poured in the USA.
Download MSDS
Download MSDS File