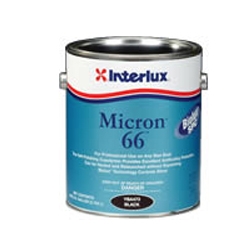 INTERLUX MICRON 66 ANTIFOULING BOTTOM PAINT
Is the longest lasting, multi season antifouling and is on the top of the Micron range with patented self polishing copolymer technology with Biolux
| | | | | |
| --- | --- | --- | --- | --- |
| Part No | Description | Unit | Price | Quantity |
Description
Product Description
Is the longest lasting antifouling and is on the top of the Micron range with patented self polishing copolymer technology with Biolux® SPC. It has the best antifouling performance in the harshest fouling conditions for two years and beyond. Micron 66 is a multi season antifouling with the ability to haul and re-launch without repainting.
Micron 66 polishes away like a bar of soap, reducing paint build up and eliminating the need for sanding. It's controlled polishing gets smoother with time maximizing fuel savings. Micron 66 provides maximum protection even under prolonged periods at the dock or mooring.
Unlike old fashion high copper bottom paints, Micron 66 use Micron Technology using less copper more efficiently for the longest lasting antifouling protection available today. It outperforms old TBT antifouling paints and is formulated specifically for professional application.
Top of the Micron range – Patented self polishing copolymer technology with Biolux® SPC – (Salt water)
Best antifouling performance in the harshest fouling conditions for 2 years and beyond
Outperforms old TBT antifouling paints
Formulated specifically for professional application
Maximum protection even under prolonged periods at the dock or mooring
Do not use in fresh water
For professional application only
Download MSDS
Download MSDS File