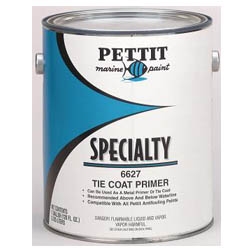 PETTIT TIE COAT PRIMER
6627 Tie Coat Primer is a general purpose chlorinated rubber type product used as a primer on metal surfaces and as a tie coat between different types of coatings.
| | | | | |
| --- | --- | --- | --- | --- |
| Part No | Description | Unit | Price | Quantity |
Description
This versatile product can be used successfully above and below the waterline as a primer and over a variety of coatings as a tie coat. When used over Pettit 6455/044 Metal Primer it forms an excellent, easy to use system for use on all underwater running gear. It is compatible with all Pettit antifouling bottom paints and with Easypoxy, vinyl alkyds and conventional alkyds. 6627 Tie Coat Primer can also be used on new and bare wood on boat bottoms to seal the wood before applying an antifouling paint.
Download MSDS
Download MSDS File